Current Projects
Book Series: Activist Studies of Science and Technology
I am launching a book series with UMass Press titled
"Activist Studies of Science and Technology."
The series will publish accessible, engaging books on science and technology in support of movements for justice and sustainability around the world. We are especially interested in publishing:
Historical and social science research on social and political activism in science, technology, and/or medicine and on the impact of new technologies on activism
Critical histories of science, technology, or medicine that aid in understanding issues of current political relevance
Applications of STS (science and technology studies) theory to support social movements and/or to reconstruct technoscience along activist lines
Critical studies in the political economy of science, technology, and/or medicine
Biographies, oral histories, and memoirs of activist scientists
Revitalization of Science for the People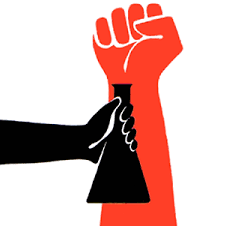 In the years since the UMass conference "
Science for the People: The 1970s and Today
," organizers around the country have taken up the work of
revitalizing SftP
. I am proud to be a part of that effort. We had our first national convention in February, 2018 in Ann Arbor. There are now chapters in numerous places around the U.S., along with an affiliated organization in Mexico City. Our local
Western Mass chapter
is focusing on: 1) community solidarity work with Arise for Social Justice around mold hazards, air pollution, and other environmental justice issues; and 2) developing K-12 science and social justice curricula. Check out this article by Rebecca Onion in
Slate
:
"A Radical '70s-Era Group Is Relaunching to Help Scientists Get Political Under Trump"
.
Union Organizing: MTA/MSP All In Campaign
In anticipation of the recent Janus decision by the U.S. Supreme Court, the
Massachusetts Society of Professors
and our parent union, the Massachusetts Teachers Association, launched an "All In" campaign. We know that workers do better when we are unionized, and we know the essential contribution labor organizing has made to social and economic justice in U.S. history. Now more than ever we need to commit ourselves to building the labor movement. I am proud to be a vice-president of the MSP charged with leading the All In campaign at UMass Amherst.
"Another World is Possible: Revolutionary Visions, Past and Present"
I am one of the organizers for the UMass History Department's
2018 Feinberg Family Distinguished Lecture Series
. The Zapatistas tell us, "Another World Is Possible." Activists in the past have often been guided by the same belief: that alternatives to an unjust status quo are both conceivable and achievable. On the 50th anniversary of the mass movements of 1968, and in the face of growing threats to democracy, to racial, gender, and economic justice, and to environmental sustainability, the 2018 Feinberg Series explores such revolutionary imaginations of the future. Historian Robin D.G. Kelley calls these visions "freedom dreams"--that is, "what people in particular movements dreamed of, what they thought they were fighting for." Series events and initiatives will explore the radical imaginations of intellectuals, artists, political leaders, renegade thinkers, community organizers, and everyday people who have worked to make another world possible.
History of Agricultural Terracing in the People's Republic of China
I am building on my recent research on the history of agricultural science in the PRC with a new project on the history of agricultural heritage studies and terracing campaigns. This research began with two visits to Wangjinzhuang in She County, Hebei, where they practice dry-land terracing with rock weirs. I have plans to travel to southern paddy-terracing sites as well as to the Loess Plateau. This project involves revisionist history (recovering the significant emphasis on conservation in Mao-era terracing campaigns) and a constructively critical perspective on current efforts to promote "traditional" terracing knowledge and preserve "agricultural heritage."